The Official Beer of the Brumbies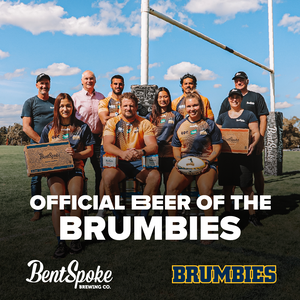 We are delighted to announce a new partnership with another local Canberra brand, The Brumbies. Making us the official beer of the Brumbies from 2022. We are really proud to be partners with another amazing sports organisation within the Canberra community that's bringing Rugby and BentSpoke to the rest of Australia. Our beer will be present at Brumbies home games, HQ and supplying corporate and fan events, as well as team functions. 
Brumbies CEO, Phil Thomson said: "We're thrilled to have BentSpoke on board for the next three years."

"In a relatively short amount of time, BentSpoke have become one of the most recognisable, respected and awarded brands in Canberra and our surrounding region."

"We are very excited to enter into a partnership with another proud Canberra brand and offer their range to our members and fans at our events."

Richard Watkins said, "Supporting the ACT community has always been very important to us, so when we had the opportunity to partner with another great local successful sporting organisation like the Brumbies we couldn't have been more thrilled."

"Both brands have been successful in international field's, so it makes a lot of sense to team up and take Canberra further afield nationally".

The partnership with the Brumbies continues our support of Canberra teams with its long-standing partnerships of the UC Capitals WNBL side and the Canberra Cavalry Baseball. BentSpoke was recently voted #1 in the GABS Hottest 100, the biggest craft beer poll in Australia, and had 5 beers in the top 100.