What's Budding...
Budding Cells is a new offshoot label by BentSpoke Brewing Company dedicated to barrel-ageing and mixed-culture fermentation. The name comes from the unique processes at play when we lay beers down to rest in barrels at our Mitchell brewery, leaving the wild yeast and bacteria to work their magic. This ancient brewing technique relies on wild yeast cells budding and multiplying and consuming the oxygen, which in turn encourages the bacteria to sour and flavour the beer.
It's a much slower and more difficult process than the modern 'kettle souring' technique that enables brewers to sour a beer in a matter of days, but we think it's worth it. Budding Cells puts an Australian spin on the Belgian tradition of brewing sour and wild ales. We mature our beers in barrels supplied by renowned Canberra Region winemakers such as Helm, Eden Road Four Winds and Nick O'Leary; with future iterations to experiment with spontaneous fermentation and indigenous yeast.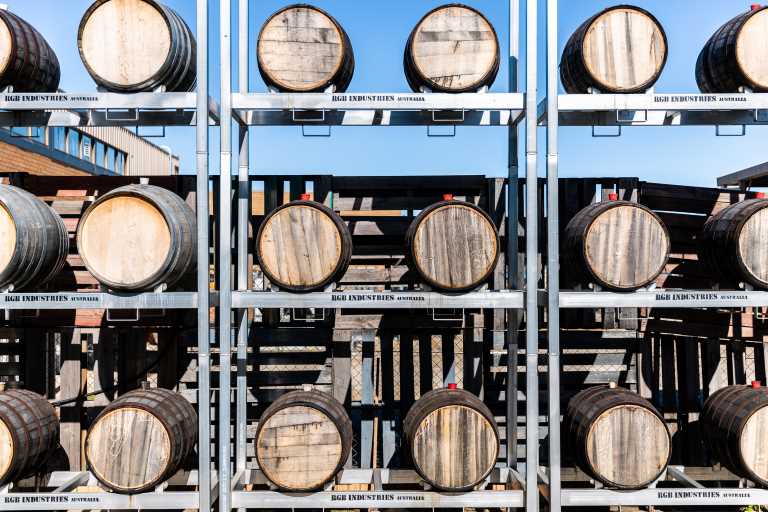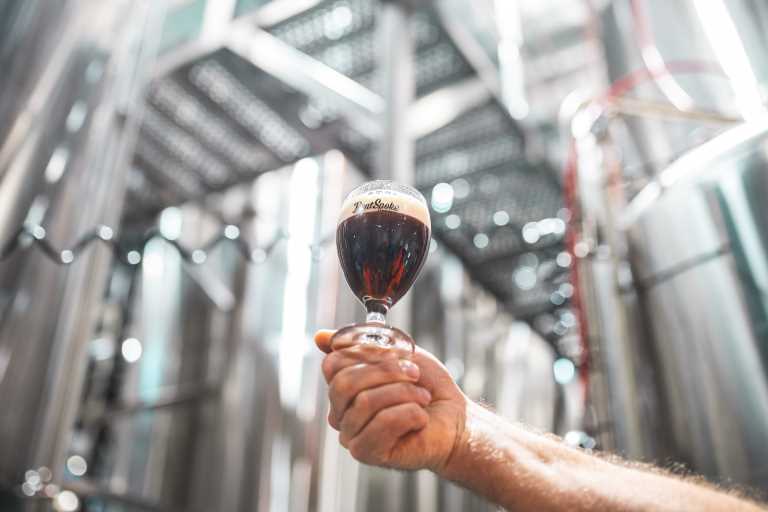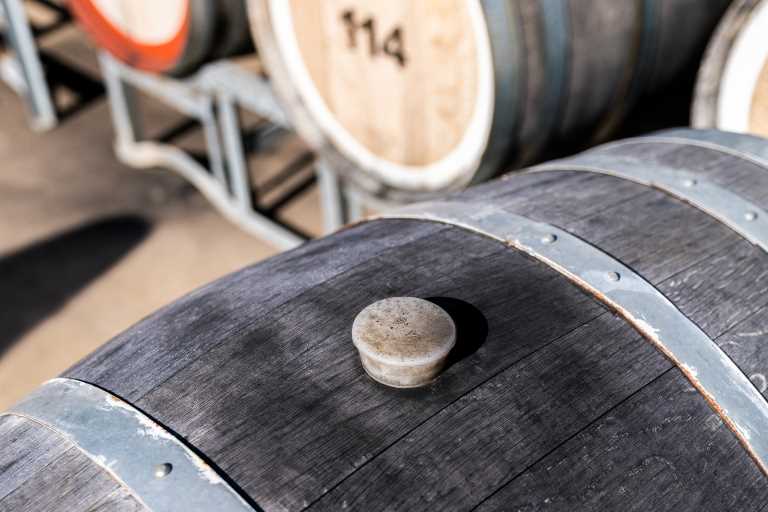 The Story
Budding Cells is the culmination of nearly two decades' experimentation with barrel ageing and mixed culture fermentation by BentSpoke's Richard Watkins. In 2005, Richard toured leading American craft breweries such as Russian River Brewing Company in Santa Rosa, California, best known for its iconic Pliny The Elder Double IPA. But it was the mysterious sour ales pouring from the Russian River taps that left the biggest impression on the visiting Australian, who at that stage was head brewer at Canberra's Wig & Pen Tavern & Brewery.
Here were beers that presented not like any other; clear, golden and effervescent. But as Richard lifted the glass to his nose, the aromatics gave away an unconventional fermentation regime.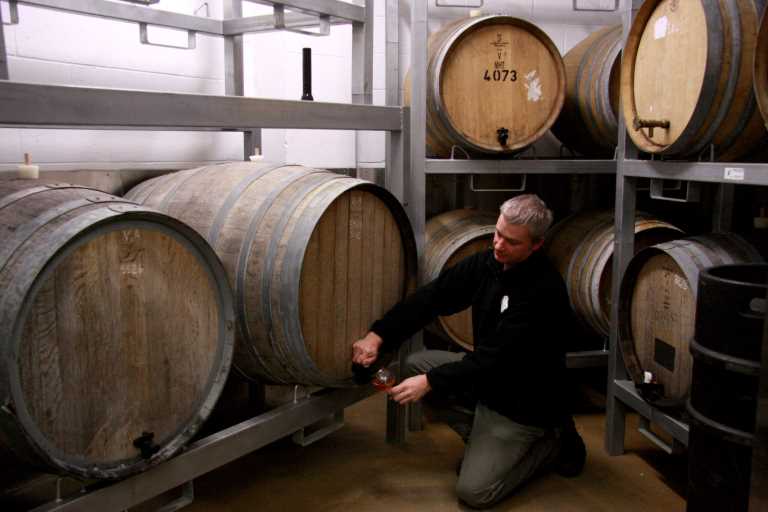 After undergoing a typical primary fermentation using standard brewer's yeast, these beers developed most of their character over nine months or longer spent resting in barrels. The bacteria and wild yeast present in these vessels had gently soured the beers, which had developed a strikingly complex array of aromas and flavours. "With every sniff and taste I was picking up different flavour notes," Richard recalls. "I had to take the time to comprehend how they all worked together. Fifteen minutes later it was like, 'now I get this beer!'"
Returning home to Canberra inspired, Richard had soon procured some barrels that a local winemaker advised were showing signs of bacterial spoilage. "I put a bit of our Kolsch in them, because it was fairly neutral in flavour. Sure enough, within six months, the flavour had changed dramatically," he says. "It wasn't perfect, but it had some of the interesting characters I was looking for. We put it on tap and a lot of the beer enthusiasts really got into it." It was enough encouragement for Richard to set about building one of Australia's first barrel programs, trialling different specialty cultures that he used to inoculate beers of different base recipes and alcohol strengths.
Further inspiration came from the increasing array of Belgian beers available at the Wig & Pen such as Rodenbach, the benchmark Flanders Red Ale; and the singular Trappist beer Orval. "I tried to emulate some of those beers in some small way," Richard says. "That led me to think, 'I've really got to get over to Belgium so I can properly understand what they're up to'." Richard and partner Tracy Margrain, with whom he would later found BentSpoke Brewing, made the pilgrimage to Belgium in 2008.
Among a series of momentous experiences was a behind-the-scenes tour of the famous lambic brewery, Cantillon, with third generation owners Claude and Jean-Pierre Van Roy.
At Rodenbach, they were welcomed by brewmaster Rudi Ghequire, who has been at the helm since 1982. "Smelling the wild yeast aroma in the barrel room at Rodenbach and then tasting it in the beers, was just amazing," Richard says. At Orval, they saw first-hand the monks dosing their beer with the wild yeast Brettanomyces during the conditioning phase, an unusual technique that carbonates and flavours the beer over a period of four to six weeks.
Afterwards, there was another once-in-a-lifetime experience. Richard and Tracy joined the monks for a lunch of different beers and cheeses, all made on-site at the abbey. These Belgian adventures grounded Richard in the heritage and time-honoured techniques behind the beers he was crafting at the Wig & Pen. While it would be a few years until he and Tracy founded a brewery of their own, there was never any doubt that this venture would take them deeper into the rabbit hole of wild and sour beers.'
The Beers
First brewed by Richard over 15 years ago, Flemm takes its inspiration from the complex sour ales originating in Belgium's West Flanders region. Barrels are filled each autumn with a malty red ale that is minimally hopped and lower pH to encourage the activity of our house culture of wild yeast and bacteria. Each year's release comprises a blend of one year old and two year old beer from our barrels with a smaller portion of fresh beer adding vibrancy and balancing the acidity from the bacterial souring process.
Flemm offers a complex array of flavours; toffee malt, plum and raisin fruity esters are framed with lacto and acetic acids, with the wild yeast contributing some intriguing barnyard characteristics. The beer's name originates from Richard and Tracy's 2008 visit to the Rodenbach brewery in Roeselare, Belgium. At a brasserie nearby the brewery, they met a local farmer named Flemm who guided their beer choices and made sure they felt welcome. This Australian riff on a Flanders Red Ale is brewed in his honour.
A 12 month barrel aged sour using our in house mixed culture bacteria strain. This is aged in barrels and then carefully blended with fresh beer to provide freshness and to balance the acidic tang. Full of interesting and challenging flavours and aromas like sweaty horse blanket, mouldy carpet and sweet bitter lemon.