Nothing worthwhile comes easily. Drifting off the beaten track allows you to explore roads less travelled. The Drifter Series will broaden horizons, drift in and out, and will no doubt bend a few spokes along the way.
FreeWheeler
Non Alc IPA
FreeWheeler has all the hoppy goodness of an IPA without the alc. Fully fermented just like a normal beer. Citrusy, tropical perfume and slight caramel malt are the highlights of this beer that allows you to Free Wheel home!
The process of brewing FreeWheeler is unique to BentSpoke due to the filtration process. BentSpoke uses a unique filter system from brewery equipment manufacturer DME. The filter removes all the fermented beer flavour called the retentate leaving the permeate (alcohol and water) behind. The flavour is then rehydrated with deaerated water, carbonated and is ready to package. Using this process allows BentSpoke to replicate full strength beer flavour in a non-alcohol beer.
Hops

Malt

Yeast

ABV
<0.5%
IBU
22
HOPS
Mosaic, Sabro, Galaxy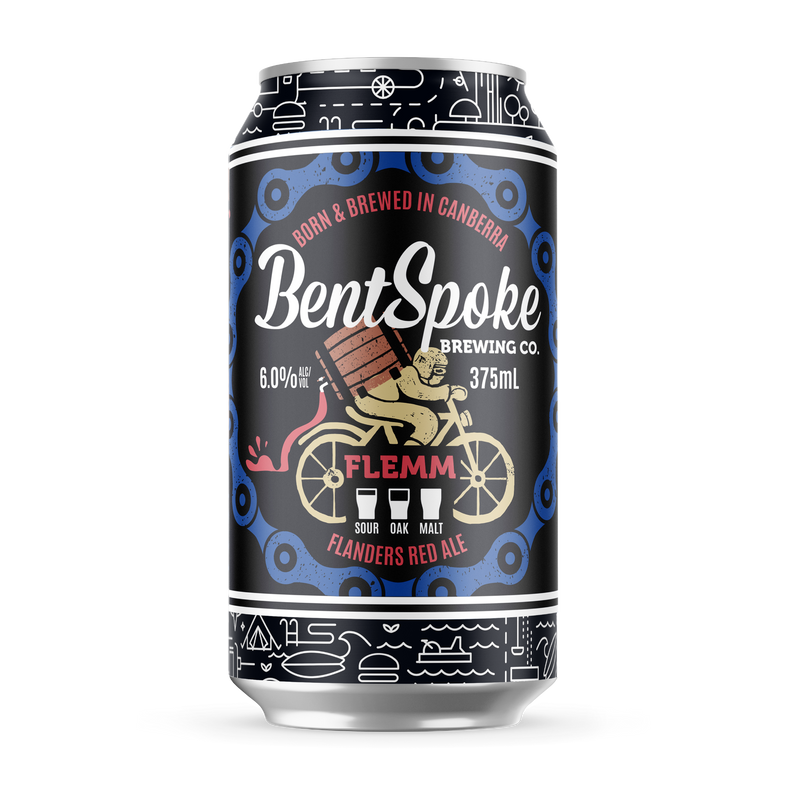 Flemm
Flemish Red Ale
On a trip to Belgium and a guided tour of the famous Rodenbach brewery, we fell in love with the Flanders Red style of beer. Brewed with wild yeast and lactobacillus to create complexity and acid. Extended maturation in oak for over 12 months, the beer is blended with an aged unoaked version and a younger unoaked version to balance the acid and add vibrance to the beer. Best enjoyed in a tulip glass with some Passendale cows milk cheese.
Flemm, by the way, was the local farmer sitting at the bar at the local brasserie who made us feel welcome and made sure we got the right beer!
Malt

Sour

Oak

ABV
6.0%
IBU
22
HOPS
East Kent Goldings
Muthur Funker
Barrel Aged Sour
A 12 month barrel aged sour using our in house mixed culture bacteria strain. This is aged in barrels and then carefully blended with fresh beer to provide freshness and to balance the acidic tang. Full of interesting and challenging flavours and aromas like sweaty horse blanket, mouldy carpet and sweet bitter lemon. 
Malt

Funk

Oak

ABV
5.0%
IBU
18
HOPS
East Kent Goldings
Keeping It Simple
The original KIS was simply loved and enjoyed for its simplicity but also punch hop line.  Keeping it Simple is the latest rendition of the Just Another IPA (JAIPA) series using another array of hops from the US and NZ.  Resinous and Dank with a little gooseberry, blueberry fruitiness, balanced by a restrained integrated bitterness.

Find Keeping It Simple Shop Now
Hops

Malt

Yeast

ABV
6.8%
IBU
48
HOPS
Samba, Cashmere, Strata, NZ01, NZ02
Fixie
Brewed Ginger Beer
Our Brewed Ginger Beer Fixie has drifted back in! A full mash, all grain brewed ginger with pressed ginger from QLD. It's got a nice balance of sweetness and a ginger kick! Make sure to grab your fixie!

Malt

Ginger

Spice

ABV
3.5%
IBU
12
HOPS
Cashmere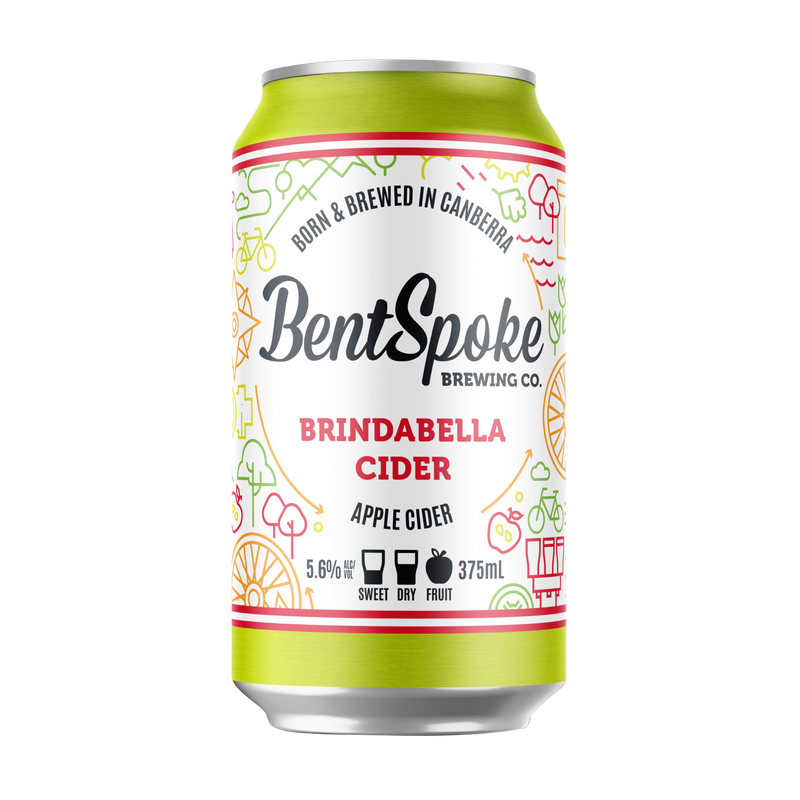 Brindabella Cider
Apple Cider
Dry Apple Cider. This is our in house blend of Batlow grown Granny Smith and Red Delicious apples. Apples are crushed on site. Enjoy!

Find Brindabella Cider Shop Now
Sweet

Dry

Fruit

ABV
5.0%
pH
3.6
APPLES
Granny Smith, Red Delicious
Cluster 8
IIPA
Imperial IPA, big and bold with lots and lots of hops! Tropical and ctirus hop aromas. Balanced with a solid and clean malty palate.
Hops

Malt

Yeast

ABV
8.8%
IBU
55
HOPS
Mosaic, Simcoe, Amarillo, Centennial, Citra
FIND BENTSPOKE
BEERS

ON TAP