BentSpoke Brewing & Patricia Piccinini Skywhale Event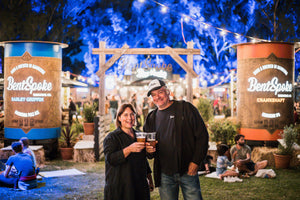 Is there a better way to celebrate Canberra Day? Come and meet Patricia Piccinini the artist behind the famous balloons Skywhale and Papawhale and BentSpoke Brewers and Founders Tracy Margrain and Richard Watkins. Enjoy a live chat about the inspiration behind the balloons and the collaboration beer "Skywhale Ale". Enjoy a live beer tasting of Skywhale ale and learn about all things beer and balloons.

Food and drinks will be available during this new session created at Enlighten Festival in Canberra. Gates will open at 2.30 with the talking session to kick off with Patricia, Tracy and Richard at 3.00pm. 
If you haven't had the chance to experience the BentSpoke Beer Garden, now is your chance as tickets for all sessions are selling out fast!
The event will take place at Enlighten Festival at John Dunmore Lang Place. You can register via ticketek on the Enlighten website.