BentSpoke Wins 1st and 2nd place in international Brewing Awards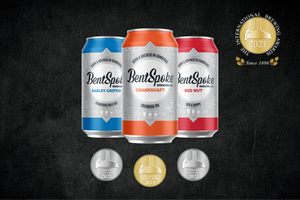 Us BentFolks have taken out some fantastic awards for 3 of our core range beers at The International Brewing Awards in the United Kingdom, dubbed 'The Oscars of the Brewing industry'. This year, we have taken 1st place, a gold medal win, in the Smallpack ale class for Crankshaft.
In 2nd place with a silver medal in the Smallpack ale class for Barley Griffin, our Canberra Pale Ale.
Also in 2nd place with a silver medal in the strong beer class was RedNut, our red IPA.
Richard Watkins, head brewer & co-founder of BentSpoke Brewing Co. has said, "We are really proud to see our city up there on the world stage and our beers recognised by other professional brewers. With the craft beer & cider industry growing and changing every year, it's no easy feat to maintain podium finishes, so we're really humbled and proud of that! These awards are really good recognition for our team and our commitment to beer quality"
The International Brewing Awards have been held since 1886, and follow a grading system similar to Olympic style podium wins where only one gold, silver and bronze medals are awarded for each beer or cider class. 
Historically, we have had some success at the international Brewery Awards winning gold and silver in 2019 and 2017 for both Crankshaft and Barley Griffin. With over 130 years of history, the awards are recognized and judged by professional brewers and considered to be one of the top three major awards globally.