BentSpoke's Budding Cells: Unveiling Two New Barrel-Aged Beers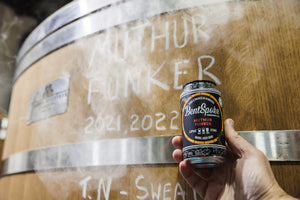 At BentSpoke Brewing Company, innovation and passion drive our brewing endeavours. Budding Cells is dedicated to the art of barrel-aging and mixed-culture fermentation following ancient brewing technique that involves aging beers in barrels for long periods of time. The flavours evolve over time as the wild yeast and bacteria's  get to work converting ordinary beer flavours into  unique flavours and aromas that set these beers apart.
The Budding Cells Story: From Inspiration to Creation
Budding Cells is the culmination of nearly two decades of experimentation with barrel aging and mixed culture fermentation by our very own Richard Watkins, Co-Founder and Head Brewer of BentSpoke. It all began during a trip to the United States in 2005 when Richard visited leading American craft breweries. While the iconic Pliny The Elder Double IPA left a lasting impression, it was the mysterious sour ales from Russian River Brewing Company that captured his curiosity.
These sour ales stood out with their clear, golden appearance, but it was the complex aromas and flavours that set them apart. Richard discovered that these unique characteristics were a result of long resting periods in barrels, where wild yeast and bacteria worked their magic over several months.
Back in Canberra, Richard began experimenting with barrels, and the first results were promising. Encouraged by the positive response from beer enthusiasts, he decided to build one of Australia's first barrel programs in 2005 at the then Wig & Pen, using different specialty cultures to inoculate various base beer recipes and alcohol strengths.
Belgian Adventures: Inspiration From Tradition
Richard's inspiration did not end there. He found further inspiration from Belgian beers, particularly Flanders Red Ales like Rodenbach and the renowned Trappist beer, Orval. Intrigued by the brewing techniques, Richard and his partner Tracy Margrain embarked on a pilgrimage to Belgium in 2008.
During their visit, they had the privilege of a behind-the-scenes tour at Cantillon, a famous lambic brewery, and spent time with brewmaster Rudi Ghequire at Rodenbach. The wild yeast aroma in the barrel room at Rodenbach left a lasting memory. Additionally, they witnessed the monks at Orval dosing their beer with the wild yeast Brettanomyces during the conditioning phase.
Introducing Muthur Funker and Flemm
Now, after years of dedication and passion, we are proud to present two extraordinary beers from our Budding Cells label:
Muthur Funker - Barrel-Aged Sour (5%)
A masterpiece crafted over 36 months using our in-house mixed culture bacteria strain, Muthur Funker is a tangy and bold barrel-aged sour beer. After aging in barrels, 3 year old is  carefully blended with 2 year old , 1 year old and fresh beer to achieve the perfect balance between freshness and the tantalizing acidic tang. Expect a tantalizing array of flavours and aromas, reminiscent of sweaty horse blanket, mouldy carpet, and sweet bitter lemon.
Flemm - Flanders Red Ale (6%)
Inspired by the complex sour ales from Belgium's West Flanders region, Flemm is the result of Richard's dedication and admiration for this unique style. Each autumn, barrels are filled with a malty red ale, low in hop character and pH, encouraging the activity of our house culture of wild yeast and bacteria. The beer is then blended, comprising a mix of one-year-old and two-year-old beer from our barrels, with a touch of fresh beer to add vibrancy and balance the acidity from the bacterial souring process. The result is a complex beer with toffee malt, plum, and raisin fruity esters framed with lacto and acetic acids, and intriguing barnyard characteristics.
Celebrate Tradition and Innovation
We invite you to embark on this adventurous journey with us as we blend tradition with innovation, creating beers that honour the heritage of Belgian brewing while pushing the boundaries of flavour. Experience the art of barrel-aging and mixed-culture fermentation with BentSpoke's Budding Cells.
Keep an eye out for Muthur Funker and Flemm, available now through our network of independent retail partners, and selected Dan Murphy's, BWS, First Choice, and Liquorland stores. Be sure to savour these unique beers while they last, as Budding Cells creations are as elusive as they are exceptional.