BMX Event at The Cannery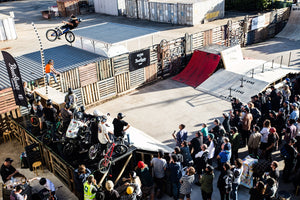 The number one thing to do this Easter long weekend, is head out to our Cannery in Mitchell to attend the last 2021 ACT JAM event on Sunday. We will have all your favourite locally brewed BentSpoke beers on tap and in cans to enjoy while you watch the BMX competition happening live out the back of The Cannery at 9 Lysaght Street Mitchell. we'll also have Boss Bugers on site if you fancy some food. 
The bike ramp set up will be bigger and better than ever. It's a 'slay the rails' street event with a large-scale ramp setup. There will be cash prizes for best tricks, jumps and much more. There will be an after party and Ranch Hand Video Premiere at The Cannery. The event is free to attend, but it will be first in best dressed with a 500 person capacity limit, with a COVID safe plan in place for all attendees. Just a reminder to anyone attending that if you are under 18 years old you must be accompanied by your parent or legal guardian to enter the event. 
Can't wait to see you all there!