Brewing In Tandem. BentSpoke X Teeling Whiskey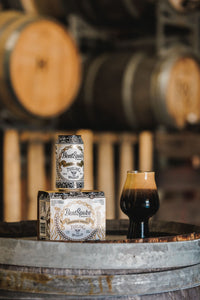 Bentspoke Brewing Company is delighted to unveil Brewers' Share, a unique whiskey-infused stout brewed in tandem with Teeling Irish Whiskey.
Released to coincide with St Patrick's Day (Friday March 17), the beer takes inspiration from two of Ireland's most famous beverage exports; the Irish dry stout and the Irish coffee cocktail.
The 7% ABV beer comprises a blend of whiskey barrel-aged stout with freshly brewed stout, a portion of which was infused with coffee beans.
In two decadent finishing touches, the beer was then spiked with Teeling Small Batch Whiskey to layer complementary aromatics upon the oak-derived characters, before being dosed with nitrogen on the packaging line to provide the creamy mouthfeel synonymous with Irish stouts.
The collaboration came about through the introduction of BentSpoke founder Richard Watkins to Teeling Asia-Pacific Commercial Manager Martin Lynch in 2021.
Subsequent discussions led to BentSpoke importing 58 barrels from Dublin that had previously held Teeling Small Batch Irish Whiskey.
Richard says the company's first foray into direct importation of barrels proved to be a challenging exercise.
"Australian biosecurity regulations are extremely tough on timber products, even when it's a vessel that has previously held a 60% ABV whisky, which you would think is pretty effective fumigation for exotic pests!" he says.
But the bureaucratic headaches and associated expense were all worth it once the shipment arrived in Canberra in August 2022.
"The freshness of these barrels was remarkable. They must have literally racked the whisky out of them, bunged them up and put them in a container," Richard says.
"When I cracked one open I could still see the whisky glistening inside and the aroma was so vibrant.
"There wasn't that hint of mustiness that we sometimes see when we source bourbon barrels through third party brokers."
BentSpoke promptly filled the Teeling barrels with a 5% ABV Dry Irish Stout and left it to rest until February 2023.
By that time, the whiskey remnants had fortified the beer to a heady 12% ABV, but Richard and Martin decided against releasing an imperial strength beer straight off the bat.
"The idea was to create a barrel-aged beer that was a little closer in style to an Irish stout and therefore more accessible in terms of price point and flavour profile," said Martin.
"If you look at Irish stouts, generally they are all sessionable beers."
The collaboration came naturally, given Martin's keen interest in craft beer, having begun his drinks industry career with Irish craft beer pioneer, Carlow Brewing Company.
"I guess you could say craft beer was my first love! Over the ten years I was based in Australia I always paid close attention to the breweries that were being innovative and releasing great beers, so Bentspoke was 100 per cent on my radar," he said.
For Richard it was a no brainer to get his hands on barrels that had previously held whiskey of Teeling's calibre. 
Founded by brothers Jack and Stephen Teeling in 2012, the Teeling company continues a family lineage in Irish whiskey that stretches back to 1782, when ancestor Walter Teeling opened a distillery in Dublin.
Jack and Stephen were able to draw upon family stocks of mature whiskey to establish their eponymous brand, which has been on a winning streak ever since.
Accolades thus far for Teeling include World's Best Single Grain in 2014, World's Best Single Malt in 2019 and World's Best Single Pot Still in 2022.
"Seeing what they've been able to achieve in a short period of time is pretty incredible," Richard says.
"It's great to partner with a family-oriented company that has similar philosophies to BentSpoke."
The barrels obtained by BentSpoke previously contained Teeling Small Batch, which is the company's flagship whiskey.
"It's our unique take on a blended whiskey, which means a blend of malt and grain whiskey," Martin says.
"We created it by marrying together bourbon barrel-matured malt and grain whiskeys that underwent further maturation in Central American rum casks, to add an extra unique layer on top of the whiskey."
Martin said that while Teeling has done numerous craft beer collaborations over the years, this one was more integrated and painstakingly executed.
"The influence of our whiskey is a lot stronger with the BentSpoke product," he said.
"The beer has been aged in the casks and then our whiskey was added into the final product too, which has never been done before in any of our collaborations globally."
BentSpoke added 79 bottles of Teeling Small Batch to the final blend, bringing the Brewers' Share to its target 7% ABV.
In preparation for dosing with nitrogen on the packaging line, the beer was lightly carbonated to one volume of CO2, versus the 2.5-2.7 volumes typical of most beers.
Richard advises that for the ultimate creamy, foamy presentation, drinkers should shake the can to mix the nitrogen with the beer, then give it a moment to settle before pouring.
"I'm exceptionally happy with how this beer has turned out," he says.
"The bitterness is nice and strong but I think it's well integrated, and the barrel character helps smooth it over.
"The barrel-derived and fresh whiskey notes have come together really cohesively with the coffee and roasted malt characters, and the creaminess from the nitro really brings it all together."
"This is the first time I can think of in Australia that the beer buyers in a national chain have worked with spirit buyers to create a joint offering for their customers," Richard says.
Better yet, there's plenty more to come from this exciting Irish-Australian collaboration.
BentSpoke refilled the Teeling barrels with stout after decanting, paving the way for a 2024 iteration.
"Plus, we've still got 40 per cent of the barrels we filled sitting in our shed at 12 per cent ABV, which could make for an epic instalment in out Descent series of imperial stouts," Richard says.
Martin says there is still "plenty more goodness" left in the barrels for future beer releases by BentSpoke.
"These weren't end of life barrels, these were taken from the middle of their lives in our maturation warehouse, to get the best possible imprint of our whiskey on these beers," he says. 
"Richard and I joked that given the hassle and cost of getting the barrels down to Australia, we really want to get the value out of them now!
"Ultimately what we would like to do it bring the barrels back to Ireland to create a Teeling whiskey that has been aged in BentSpoke beer barrels, and release that as an exclusive in the Australian market."
BentSpoke has now sold out of Brewers' Share. Head to your local BWS or Dan Murphy's to grab a 4-pack.