Buy BentSpoke and Win, sumthin, sumfin, or something bent!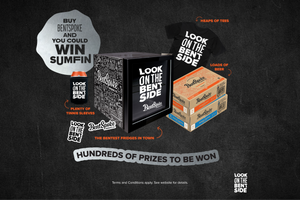 Want to win sumfin? Well with BentSpoke, you can! This summer, BentSpoke is giving away heaps of awesome prizes for every purchase made between November 1st 2021 until the 22nd of February 2022. Join us by Looking on the Bent Side this summer, and buy BentSpoke beer at any participating retailers for your change to win some awesome prizes. We'll be giving away heaps of beer, tees, tinnie sleeves and a few custom wrapped mini bar fridges! All you have to do, is head into your local bottle-shop and purchase BentSpoke. Scan the QR code in store and enter your email address along with proof of purchase to go into the draw to win some awesome stuff! Check out the full T&C's when you scan the code in store. 
If you missed the QR code in store, please click on the link to fill in your details for the chance to win sumfin!