Cluster 8 IIPA - Embrace Autumn with BentSpoke's Iconic Drifter Series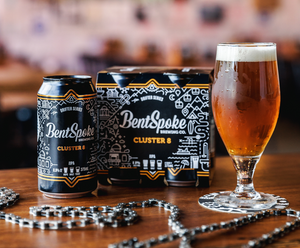 As the leaves change and the weather cools, it's time to welcome Autumn with a legendary brew from BentSpoke - the Cluster 8 IIPA. One of BentSpoke's all-time Brewpub favourites, this Double India Pale Ale has delighted beer enthusiasts for years. And what better way to celebrate its greatness than by launching it just in time for IPA week in August 2023!
Cluster 8 IIPA has earned a special place in the hearts of beer lovers, earning a permanent spot on tap at the Brewpub year-round. However, to cater to the demand of fans craving to enjoy this resinous beauty at home with friends, exclusive runs of this masterpiece are made available in cans throughout the year.
This IIPA boasts an explosion of tropical and citrus hop aromas, creating a delightful sensory experience for your palate. The masterful combination of hops, including Mosaic, Simcoe, Amarillo, Centennial, and Citra, gives Cluster 8 its bold and hoppy character, while a solid and clean malty foundation balances the brew to perfection.
Richard Watkins, the Co-Founder and Head Brewer, expresses his excitement for Cluster 8's can release, stating, "This is a release we as brewers always look forward to putting into cans. One of our favourite BrewPub beers and experiences, we get to share with the rest of the country. As always, Cluster 8 is big, hoppy yet well balanced and of course, best enjoyed fresh!"
But remember, this limited release won't be around for long. To ensure you don't miss out on experiencing the delight of Cluster 8 IIPA, make sure to get your hands on a pack while they're fresh! Starting from the 2nd of March, the beer will be available through BentSpoke's network of independent retail partners. You can also find it in selected Dan Murphy's, BWS, First Choice, and Liquorland stores. For the full list of stockists, check back later in the week.
So, let the Cluster 8 IIPA be your perfect companion for this Autumn - a bold and hop-packed beer that's sure to satisfy your taste buds and create unforgettable moments with friends. Cheers to BentSpoke's passion for brewing and to the arrival of Cluster 8 IIPA in cans this IPA week! 🍻