Cluster 8 Release + Stockists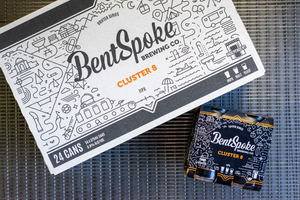 Cluster 8 is drifting back in! For the first time this year, you'll be able to find our 8.8% Imperial IPA in cans. A long time BentSpoke Brewpub favourite, Cluster 8 first made its appearance in cans in 2018. The 8.8% IIPA is one of our highest geared beers and is part of the 'Drifter' series; a peloton of beers that drifts in and out of availability.
Featuring tropical and citrus hop aromas, Cluster 8 is a big and bold Imperial IPA packed full of a serious combination of hops including: Mosaic, Simcoe, Amarillo, Centennial and Citra balanced with a solid and clean malty palate.
"This is a release we as brewers always look forward to putting into cans. One of our favourite BrewPub beers and experiences, we now get to share with the rest of the country. As always Cluster 8 is big, hoppy yet well balanced and of course, best enjoyed fresh!"
Richard Watkins – Co- founder and Head Brewer
Cluster 8 will be available through our network of independent retail partners from the 28th of August as listed below, or via selected Dan Murphy's, BWS, First Choice and Liquorland stores on the East Coast.
STOCKISTS
ACT
Canberra
Ainslie Cellars
Banks IGA
Barton Grocer
Blackhearts & Sparrows
Bottlemart South Point Tuggeranong
Canberra Wine & Spirit Merchants
Candamber Fine Wines
Cannon's Liquor Googong
Cellarbrations Belconnen
Cellarbrations Braddon
Cellarbrations Bungendore
Cellarbrations Gold Creek
Cellarbrations Gungahlin
Chifley Supermarket
Cook Grocer
Cork and Glass
Corks Liquor Lanyon
Daily Market
Dina's Liquor
Erindale Wines & Spirits
Foodworks Forde
Hops & Vine
IGA Campbell
IGA Chapman
IGA Deakin
IGA Drakeford (Kambah)
IGA Farrer
IGA Garran
IGA Gowrie
IGA Gordon
IGA Hackett
IGA Holt
IGA Hughes
IGA Isabella Plains
IGA Lyneham
IGA Melba
IGA Narrabundah
IGA Ngunnawal
IGA Nicholls
IGA O'Connor
IGA Palmerston
IGA Yarralumla
Jim Murphy Airport
Jim Murphy Market Cellars
Jiparu
Kingston Hotel
Liquor Legends Charnwood
Liquor Legends Hawker
Liquor Legends Woden
Lyons Supermarkets
Malts & Brews
New Planet Supermarket
Page Bottler
Patto's Grog Shop
Peter's Wine Shop
Plonk Belconnen
Plonk Fyshwick
Prohibition The Bottle Shop
Red Hill Express
Shoprite Griffith
Spar Rivett
Spence Grocer
Statesman Hotel
Supabarn Casey
Supabarn Crace
SupaExpress Florey
SupaExpress Kaleen
SupaExpress Watson
Urban Cellars Kippax
NSW
Sydney
Ashfield Mall Cellars
Camperdown Cellars Leichhardt
Quakers Hill Cellars
Cutty Cellars - Crow's Nest
Thirroul Cellars
Park House Mona Vale
Lock Stock & Bottle
Bottle-O Glen Alpine
Beer Cartel
Supa Cellars Banksia
Town Hall Hotel - Newtown
Loftus Liquor
Bayfields Dee Why
Cringila Cellars
Leura Cellars
Northmead Cellars
Oak Barrel`
Charlie's Liquor Barn - Tahmoor
Robin Hood Hotel
Camperdown Cellars Darlinghurst
Australian Hotel
Blue Gum Hotel
Liquor Emporium St. Peters
Liquor Emporium Alexandria
Camperdown Cellars Kingston Rd
Camperdown Cellars Neutral Bay
Sackville Hotel
Union Hotel - Newtown
Bourke St. Wine Shop
NSW - Central Coast
Bamvino Cellars (Green Point)
Berkeley Vale Cellars
Buff Point Cellars
Cellarbrations East Toukley
Cellarbrations Forresters Beach
Dudleys Liquor (Killarney Vale)
Killcare Cellars
Mingara Recreation Club (Tumbi Umbi)
Munmorah Liquor Supply (Lake Munmorah)
Oldfield Cellars (West Gosford)
The Dam Hotel (Hamlyn Terrace)
The Lakes Hotel (The Entrance)
NSW – Hunter
Belmont Hotel
Bottlemart Carrington
Bottle-O Tenambit
Carey Bay Cellars
Cellarbrations Adamstown
Cellarbrations at Maryland Tavern
Cellarbrations Cameron Park
Cellarbrations Kotara
Cellarbrations Newcastle
Cellarbrations Valentine
Fennell Bay Cellars
Georgetown Cellars
Hotel Jesmond (Jesmond)
Junction Inn Hotel (Raymond Terrace)
Kahibah Liquor Mart
Mary Ellen Hotel (Merewether)
McCauley's Bottleshop (Salamander Bay)
Prince of Merewether
Rathmines Cellars
Redhead Cellars
Ritchies IGA - Kurri Kurri
Ritchies IGA - New Lambton
Shortland Hotel
Teralba Bottleshop
The Bay Hotel (Bonnells Bay)
The Bottle-O Lambton
The Bottle-O Wickham
The Garden Cellars (Pokolbin)
The George Tavern (East Maitland)
Tighes Hill Cellars
Toronto Hotel
Warners at the Bay
Whitebridge Cellars
NSW – Mid North Coast
Blueys Cellars (Pacific Palms)
BYO Cellars Hawks Nest
BYO Cellars Jetty Village (Coffs Harbour)
Local Liquor Macksville
Ocean View Hotel (Urunga)
Old Bar Cellars
Port Macquarie Hotel
Ritchies IGA - Boambee
Ritchies IGA - Nambucca Heads
Tacking Point Tavern (Port Macquarie)
NSW – West/Riverina
Billabong Bottleshop Griffith
Big O Bottleshop Cootamundra
Cellarbrations Edward's Tavern Wodonga
Devil's Hollow Brewery (Dubbo)
Club Mudgee
Elgin's Wodonga
Knickerbocker Hotel (Bathurst)
Midwest Food and Liquor (Dubbo)
Quains Liquor (Wellington)
The Lane Cellars (Orange)
Vandebgerg Hotel (Forbes)
Wagga Cellars
Westside Hotel Dubbo (Dubbo)
NSW – New England/North Coast/Northern Rivers
Cellarbrations Mary G's
Curious Craft Ales
Seaview Tavern (Woolgoolga)
Sun Bistro
Tattersalls Hotel Inverell
QLD
Brisbane
My Beer Dealer
Bowen Hills Beermart
Malt Traders CBD
TB Wine & Beer Stafford
Story Bridge Cellar's Kangaroo Point
Story Bridge Cellar's East Brisbane
Tippler's Tap Southbank
Ze Pickle Fortitude Valley
Barrel's & Stills
Beardy's Bar & Grill
Suburban Social Holland Park
Suburban Social Chapel Hill
Sense of Taste Hamilton
Sense of Taste Portside
Sense of Taste Coorparoo
Star Liquor West End Hotel
Star Liquor Hardgrave Road
Star Liquor Runcorn
Star Liquor Raceview
Star Liquor Richlands
Harry Brown's Eatons Hill
Harry Brown's Bracken Ridge
James Street Cellars
Vulture & Grey Wines & Ales
Crosby Road Wines & Ales
SW1 Wines & Ales
Victoria & Montague Wines & Ales
TB Wine & Beer Teneriffe
TB Wine & Beer Rosalie
Bottlemart Boondall
Bottlemart Cashmere
Bottlemart Eaton's Hill
Saccharomyces Taringa
Saccharomyces South Brisbane
Black Sheep Newmarket
Black Sheep St Lucia
Black Sheep Hendra
Black Sheep Everton Hill's
Black Sheep The Gap
Embassy Cellars
Spiro's Paddington
The Vine Cleveland
Cellarbrations Hawthorne
Cellarbrations Greenslopes
Cellarbrations Waterloo Bay
Cellarbrations Tingalpa
Cellarbrations Manly
Cellarbrations Camp Hill
Urban Cellars Grange
Stafford Tavern
Cellar Door Redbank Plains
Sunshine Coast
Purple Palate
Cellarbrations Birtinya
Cellarbrations Buderim
Cellarbrations Yandina
Cellarbrations Gympie
Cellarbrations Nambour
Cellarbrations Surfair
Star Liquor Maroochydore
Gold Coast
Treetops Tavern
The Mill Cellars
Cellarbrations Pimpama
Quench Ashmore Tavern
Toowoomba & Surrounds
Toowoomba & Surrounds
Sundowner Saloon
Bottlemart Eastside Cellars
MacKenzie Row Cellars
Fitzy's Toowoomba
VIC
Baccus marsh FW, Baccus Marsh
Beer 360, Richmond
Beermash, Collingwood
Blackhearts and Sparrows, Brunswick
Blackhearts and Sparrows, East Brunswick
Blackhearts and Sparrows, Fitzroy
Blackhearts and Sparrows, Fitzroy North
Blackhearts and Sparrows, Kensington
Blackhearts and Sparrows, Melbourne Central
Blackhearts and Sparrows, Prahan
Blackhearts and Sparrows, Richmond
Blackhearts and Sparrows, Windsor
Blackhearts and Sparrows, Abbotsford
Bottleo Dromana, Dromana
Bottleo house, Balaclava
Campanas, Ballarat
Carwyn Cellars, Thronbury
CBN Nardis, Highton
CBN Tottenham, Tottenham
CBN Yarraville, Yarraville
Cellarbrations Gisbourne, Gisborne
Chas Cole Geelong, Geelong
Chas Cole Shepparton, Shepparton
The Vin Cellars, Yarraville
Clifton Hill Hotel, Clifton Hill
Cockatoo IGA, Cockatoo
Craft beer king, Mainfold
Craft republic, Malvern East
Decanters by the Bay, Port Melbourne
District Bottle shop, Pascoe Vale
East Ivanhoe FW, Kilmore
Far Side Beers, East Ivanhoe
Fizz and Hop, Hawthorn
Foxxys Dalesford, Moonee Ponds
Foxxys Kilmore, Dalesford
Grape n grain, Moorabbin
Harry Brown Craigieburn, Craigieburn
Harvest Belgrave, Belgrave
Harvest Wine and Liquor, Northcote
Hop Shop, Sandringham
Hop Supply Co, Bendigo
Local Cellars, Clifton Hill
Mayerling, Croydon
Mccoppins Fitzroy, Fitzroy
Michaels IGA keysborough, Keysborough
Michales IGA Korumburra, Korumburra
Nepean Highway cellars, Mornington
Nillumbik, Diamond Creek
Ocean Grove cellars, Mornington
Otters Promise, Moonee Ponds
Penny Young, Malvern East
Portland IGA, Portland
Prince Alfred, Port Melbourne
Purvis Richmond, Richmond
Purvis Surry Hills, Surry Hills
Rascal Brunswick, Portland
Ritchies Aspendale, Aspendale
Ritchies Carrum Downs, Carrum Downs
Ritchies Dromana, Dromana
Ritchies Emerald, Emerald
Ritchies Mildura, Mildura
Ritchies Mt Eliza, Mt Eliza
Ritchies Mt Waverly, Mt Waverly
Ritchies Tower Hill, Frankston
Ritchies Wantina, Wantina
Ritchies Yarra Glen, Yarra Glen
The Press Cellars, Taraglon
Thirsty Camel Reservoir, Reservior
Union Wine Store, Ascot Vale
Vintage 72, Rosanna
Yarralgon Ale House, Yarralgon