PEDAL INTO THE BREWPUB THIS ANZAC DAY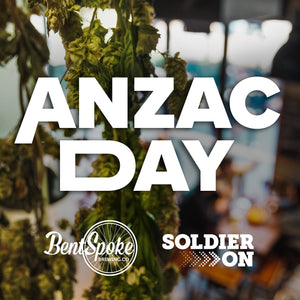 Pedal into the BrewPub, Tuesday the 25th of April for our Bent Anzac Day breakfast! We'll be open from 8am serving FREE filter coffee, bent breakfast, and have a special ANZAC day brew drifting in.
In addition to our regular menu, we've got some very bent specials on the menu, including:
🍻Toasted sourdough sandwich w/ bacon, cheddar, provolone, and Brewers Share caramelised onions w/ tonkatsu dipping sauce
🍻Red Nut Baked beans w/ smoked chorizo, watercress, shaved Manchego, and sourdough crumbs
🍻Green breakfast bowl w/ roast broccoli, salad onion, kale, hops salted almonds, avocado, caramelised pumpkin seeds, goats' cheese, and poached egg
On the day we will be donating $1 from every pint to Soldier On, a not-for-profit that deliverers holistic support services to current and former ADF personal and their families. 
Read more about Soldier On here