Beer
Barley Griffin (BG)
Mild cloudy Australian Pale Ale. Soft fruity aromas and light biscuity malt giving a nice light mouth feel. Easy drinking and great on a hot summer's day after mowing the lawn. It was awarded a Silver Medal at the 2021 International Brewing Awards. 

Trad Ale, Wheat Malt, Rolled Wheat
Bent (B)
Bent is BentSpoke's Straight Forward Beer. The beer you drink when you want to bend an elbow watching the footy, after mowing the lawn or soaking up some afternoon sunshine. It's uncomplicated, refreshing and frankly just a straight forward beer that won't head straight to your waistline.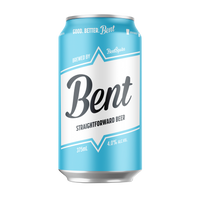 Bent Brewer 3 (BB3)
This is the beer of show from the ACTABC. The best beers from all the 21 categories are compared, judged, and sampled to find the best beer in the competition. The winning brewer gets to brew his beer with the brewers from BentSpoke and have it on tap in the brewpub. Adrian Ison won this year with his Sour Ale. Funky, bready, sweaty armpit notes with a balanced sour acidic palate. Refresh your self!
Bohemian Pilsner, Wheat Malt, Acidulated Malt
Big Nut (BN)
This big black IPA has roasty, coffee and nutty, malty notes with resiny, piney and garlicky hops rounding out the palate.
Trad Ale, Roast Malt Roasted Barley, Choc Malt, Amber Malt
Bract to the Ditch (BTD)
This beer is brewed using experimental hops from New Zealand as part of the Bract Brewing Programme. We brewed an IPA to showcase the big, ripe, tropical fruit flavours these hops produce.
Tra Ale, Cara Red, Rolled Oats
Braddon Bitter (BB)
Try our hand pumped English Bitter. It's malty and bitter: just how we like it!
East Kent Goldings, Fuggles, Us Cascade
Maris Otter, Crystal Malt
Brindabella Cider (BC)
Dry Apple Cider. This is our in house blend of Batlow grown Granny Smith and Red Delicious apples. Apples are crushed on site. Enjoy!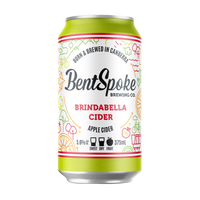 Granny Smith, Red Delicious
Brusecco (BSC)
This is BentSpoke's take on Prosecco, utilising the permeate from the FreeWheeler separation process. It is then infused with light minerals, passionfruit and mango.
Served in a wine glass over ice with mint and lime.
Carapils, Pale Malt, Rolled Wheat
Cluster 12 (C12)
This Triple IPA is like liquid resin and is crammed full of hops.
Columbus, Chinook, Simcoe, Us Cascade
Trad Ale, Caramunich Type 1
Cluster 8 (C8)
Imperial IPA, big and bold with lots and lots of hops! Tropical and ctirus hop aromas. Balanced with a solid and clean malty palate.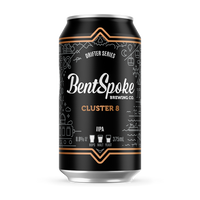 Mosaic, Simcoe, Amarillo, Centennial, Citra
Trad Ale , Munich Malt, Caramunich Type 2
Crankshaft (CR)
Similar to a West Coast IPA. Floral nose with notes of citrus and pine. Medium bodied with a nice punch of hops and a solid malt finish. A great beer for lovers of big full flavoured brews - it cranks! Crankshaft has ranked as Australia's #1 IPA for 6 years running in the GABS Hottest 100, 2 of which it came 1st overall. It also received a Gold Medal at the 2021 International Brewing Awards.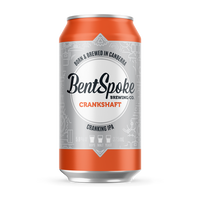 Ekuanot, Simcoe, Citra, Centennial
Trad Ale, Caramunich Type 1
De Crack (DC)
Brewed in collaboration with Fermentis and Bintani. Brewed in honour of the famous De Garre in Bruges , This tripel features strong ester aromas of banana and peach, a strong biscuity malt profile and subtle cumquat and melon hop notes.
Bohemian Pilsner Malt, Carared Malt, Munich Malt, Dark Candi Syrup
Descent 23 (D23)
Our 9th Birthday Beer has descended! Starting a downhill descent into the unknown requires a level of composure. DESCENT 23, like its eight predecessors requires plenty of composure, it's about taking the palate on a journey, taking the ADVENTUROUS route, and BENDING a few SPOKES along the way. 
The Imperial Stout is aged in whiskey barrels for 12 MONTHS contributing whiskey, vanilla, and wild yeast characters. The end result is a WINTER WARMER with roasty, bitter black malt balanced by soft leather-like esters.
Trad Ale, Roast Barley, Munich Malt, Chocolate Malt
Easy (EZ)
This easy drinking cleansing mid-strength ale will keep you well hydrated but in low gear through summer. Dry hopped with Citra and Mosaic.
Munich Malt, Carapils, Rolled Wheat
Farrer's Wheat (FW)
Brewed in recognition of Australian wheat Pioneer William J Farrer. This Hefeweizen is packed with spicy wheat, bubblegum, banana and clove aromas. 
Wheat, Pale Malt, Rolled Wheat
Fixie (FX)
Our Brewed Ginger Beer Fixie has drifted back in! A full mash, all grain brewed ginger with pressed ginger from QLD. It's got a nice balance of sweetness and a ginger kick! Make sure to grab your fixie!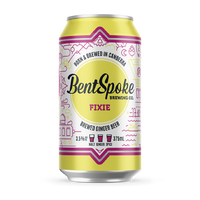 Flemm (FL)
On a trip to Belgium and a guided tour of the famous Rodenbach brewery, we fell in love with the Flanders Red style of beer. Brewed with wild yeast and lactobacillus to create complexity and acid. Extended maturation in oak for over 12 months, the beer is blended with an aged unoaked version and a younger unoaked version to balance the acid and add vibrance to the beer. Best enjoyed in a tulip glass with some Passendale cows milk cheese.
Flemm, by the way, was the local farmer sitting at the bar at the local brasserie who made us feel welcome and made sure we got the right beer!
FreeWheeler (FW)
FreeWheeler has all the hoppy goodness of an IPA without the alc. Fully fermented just like a normal beer. Citrusy, tropical perfume and slight caramel malt are the highlights of this beer that allows you to Free Wheel home!
The process of brewing FreeWheeler is unique to BentSpoke due to the filtration process. BentSpoke uses a unique filter system from brewery equipment manufacturer DME. The filter removes all the fermented beer flavour called the retentate leaving the permeate (alcohol and water) behind. The flavour is then rehydrated with deaerated water, carbonated and is ready to package. Using this process allows BentSpoke to replicate full strength beer flavour in a non-alcohol beer.
Trad Ale, Carapils, Rolled Wheat
Frenzy (FR)
Raspberry wheat beer, infused and served through the hopinator filled with fresh summer berries and mint! It's sweet, tart and berry-licious! 
Hazee (HZ)
This hazy pale ale is light and fruity, sessionable and approachable.
SUPERDELIC, SABRO, GALAXY, EKUANOT
TRAD ALE, VOYAGER ORGANIC PILSNER, WHEAT, ROLLED WHEAT
Hub (HUB)
An easy drinking summery English ale, with mild hop bitterness and biscuit malt characters. Perfect for a hot Australian Summer. 
Kingo's Lager (KL)
Brewed in collaboration with local legend Peter Barclay at King O'Malley's. A crisp, refreshing Pilsner, mildly hopped with Ryefield Beedelup hops.
Voyager Organic Pilsner, Rolled Wheat
Kriek De Brune (KDB)
Brewed for sour beer lovers in winter. This modern style Gose has dark chocolate malt characters , tart cherry puree and a sour lacto finish.
Trad Ale, Wheat Malt, Roasted Malt
Muthur Funker (MF)
A 12 month barrel aged sour using our in house mixed culture bacteria strain. This is aged in barrels and then carefully blended with fresh beer to provide freshness and to balance the acidic tang. Full of interesting and challenging flavours and aromas like sweaty horse blanket, mouldy carpet and sweet bitter lemon.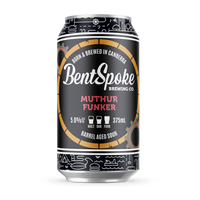 Prost (PR)
This refreshing German style lager is full bodied and offers a touch of sweetness to balance the addition of the floral German hops. Perfectly pintable on a sunny afternoon.
Red Nut (RN)
A Red IPA with a resiny hop and caramel malt character. Red Nut received a Silver Medal at the 2021 International Brewing Awards and a Bronze Medal at the World Beer Cup in 2018. 
Fortnight, Mosaic, Citra, East Kent Goldings, Amarillo
Sprocket (SP)
It's not Sprocket Science! A big and hoppy IPA housing raw tropical fruit sniffs and tastes. If you love hops, give it a try! Sprocket received the trophy for Best Traditional IPA at the 2021 AIBAs. 
Mosaic, Amarillo, Fortnight
Not Beer
Soft Drinks & Mineral Waters